esta importante reportagem integra as listas dos verbetes integração e segregação
SHAPIRO, E. (2019): SHAPIRO, Eliza. Segregation Has Been the Story of New York City's Schools for 50 Years. The New York Times, New York, March 26, 2019. Disponível em: internet. Acesso em: 16 jun. 2020.
conteúdo integral com texto e fotografias
PAST TENSE
Segregation Has Been the Story of New York City's Schools for 50 Years
Low black and Hispanic enrollment at Stuyvesant High School has reignited a debate about how to finally integrate the city's schools.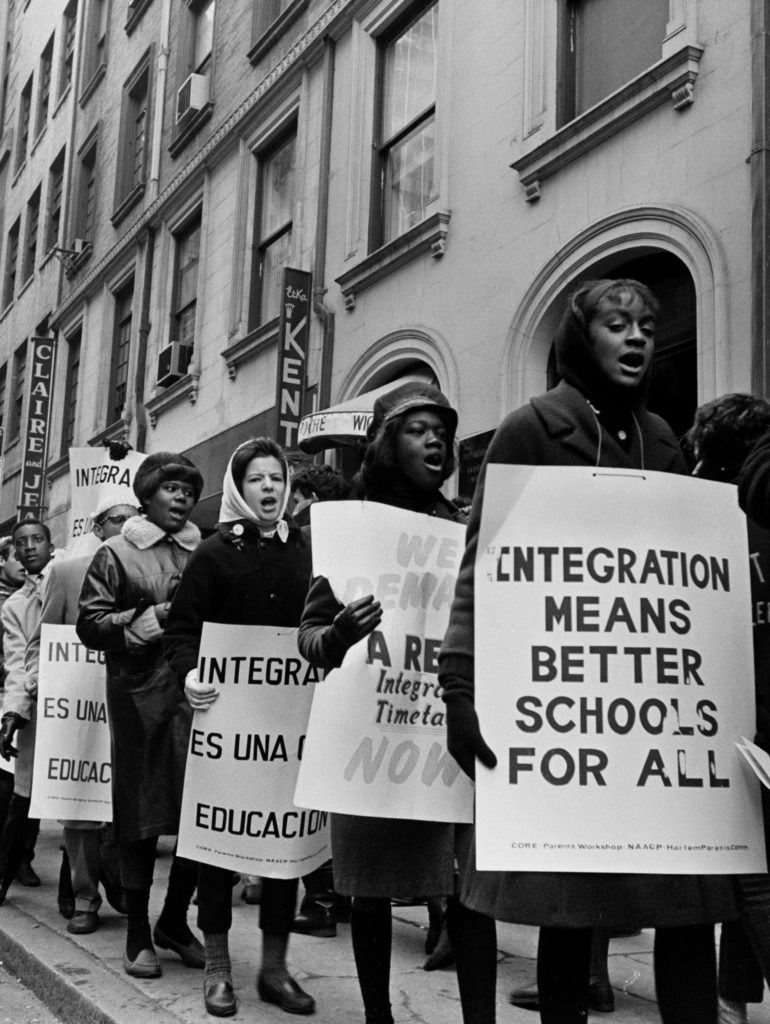 By Eliza Shapiro
March 26, 2019
New York City is starkly different today than it was 50 years ago. It is politically more liberal, and far more racially diverse. Yet one aspect has barely changed: The city's public schools remain among the most segregated in the nation.
The deep racial divide was highlighted last week, when eighth graders who had taken the specialized high school admission test received offers to attend New York's highly selective public high schools. The statistics were striking: out of 895 slots in Stuyvesant High School's freshman class, only seven were offered to black students.
Racial and socio-economic segregation is even more pronounced in some parts of the city now than it was a five decades ago, though research released in the intervening years has shown that integration benefits all children.
How did we get here? Why have schools remained so segregated for so long? And what can the city's leaders do to change a fifty-year status quo?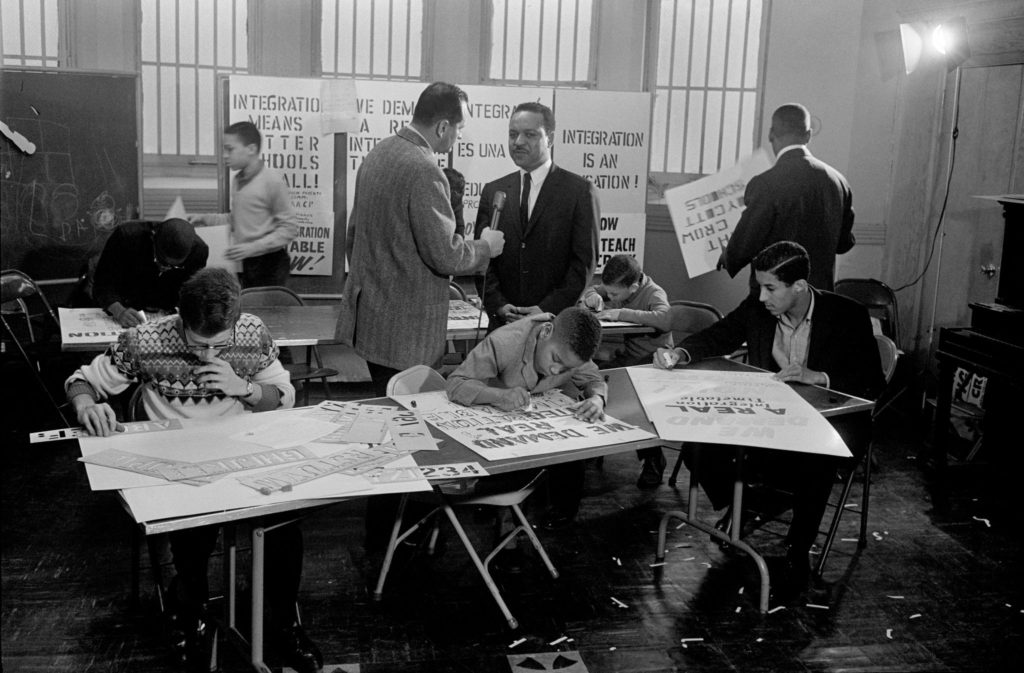 'A serious split'

On the morning of Feb. 2, 1964, students hunched over signs they would hoist the following day at a massive school boycott by hundreds of thousands of parents and children. They filled in bubble letters that spelled out "Fight Jim Crow, Boycott Schools," and "Integration Means Better Schools for All."
The boycott was led by local civil rights activists frustrated with the city's fitful efforts to integrate schools, a decade after the Supreme Court decision in Brown v. Board of Education rendered school segregation unconstitutional.
Then, as now, the strongest supporters of integration believed the city's efforts hewed too closely to a separate-but-equal ideology that the Supreme Court had struck down.
Backers of integration pushed not only against the mostly white families who staunchly opposed using transportation to achieve integration, but also against moderates who warned of what might happen if activists pushed families too far.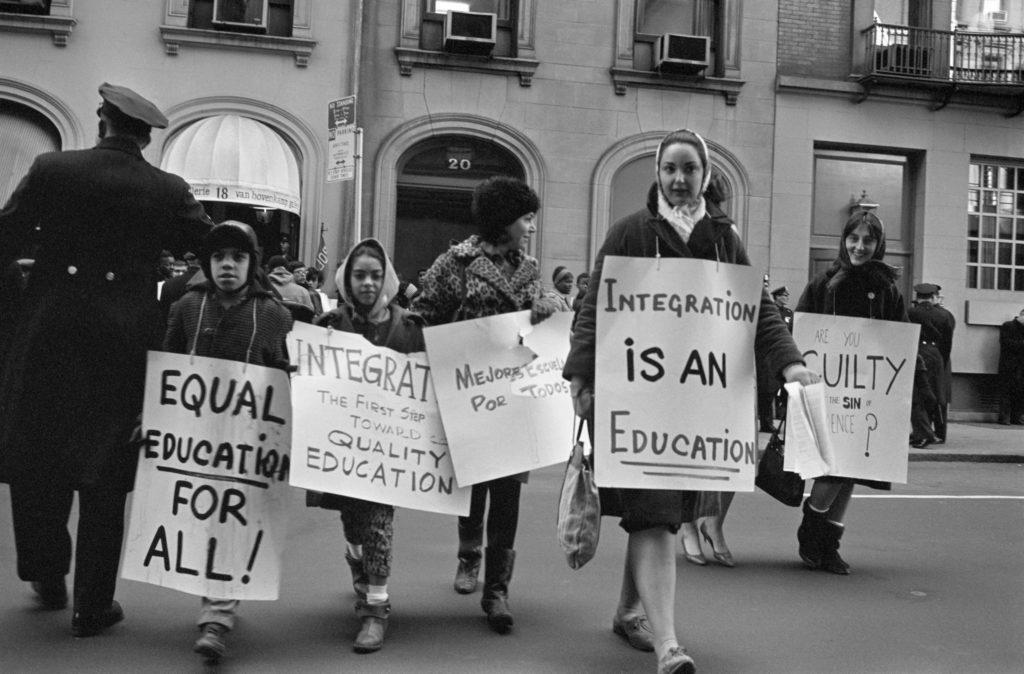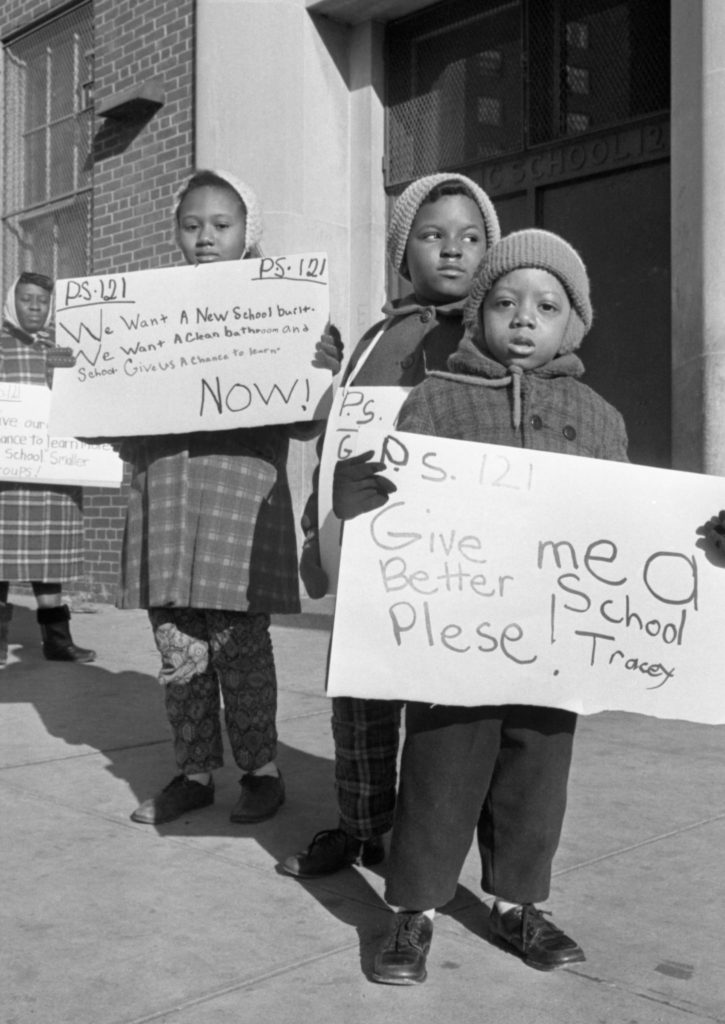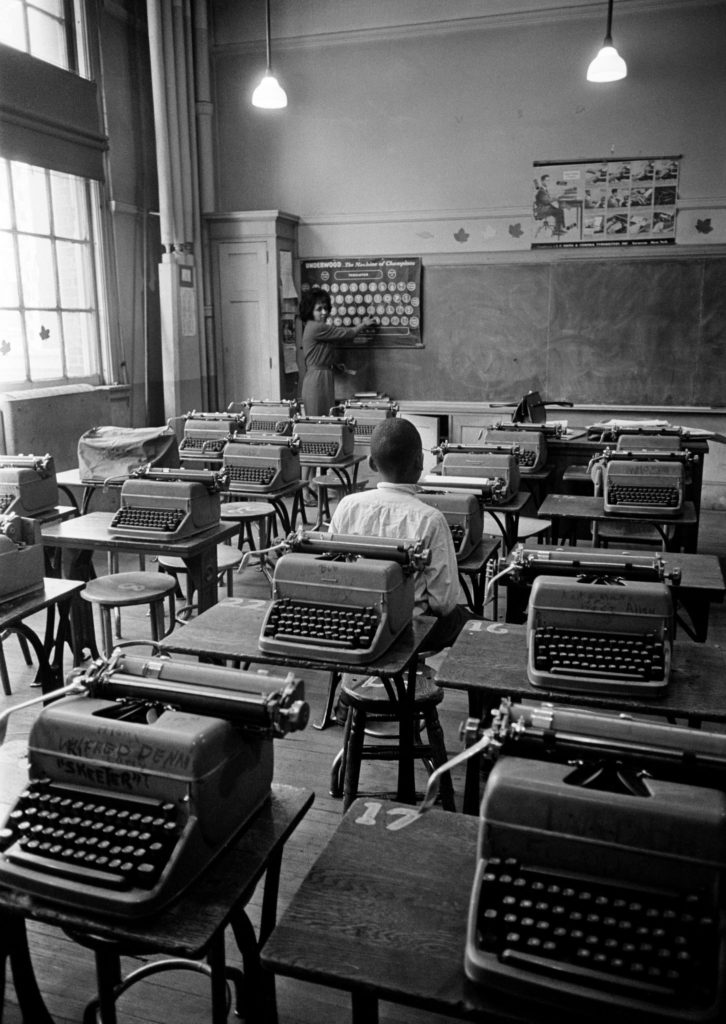 "The big city school systems face the threat of a serious split," a Times reporter observed in early 1964. "Not between integrationists and segregationists but between civil rights leaders who are asking for total and instant integration of the schools and those who have long been working for a combination of school improvement and integration but are afraid that extreme and impractical steps may destroy the school system."
That divide is felt at the highest levels of city government today.
Mayor Bill de Blasio has urged patience and caution regarding integration, and argued that his administration's power is limited: it could not, he said, "put forward a plan that says we're going to instantly wipe away 400 years of American history." Rather than creating a citywide integration plan, he has boosted funding for schools with low-income students.
But Mr. de Blasio's schools chancellor, Richard A. Carranza, has vowed to tackle segregation, which he frequently refers to as "the elephant in the room" — despite the fact his boss has long avoided using the words "segregation" or "integration."
"Sixty-four years ago the question of diversifying schools, integrating schools, was definitively settled by the United States Supreme Court in Brown vs. Board of Education," Mr. Carranza said in a speech last year.
"The question I have for all of us tonight is, 64 years later, what do we, the collective we, have to show for that? I will tell you that in communities across America, the answer is, not much."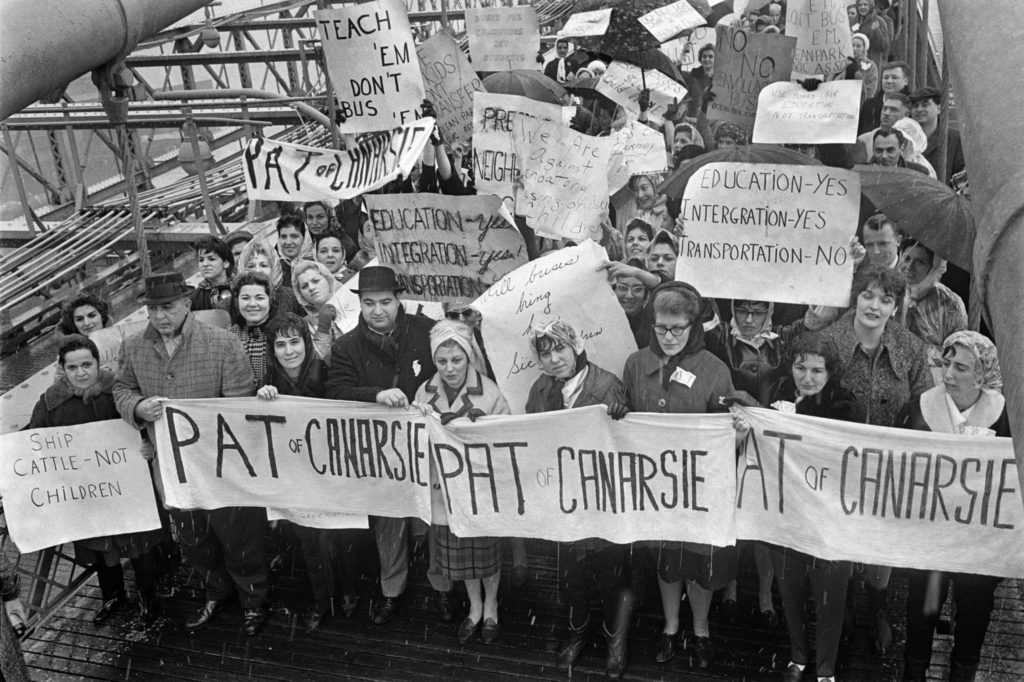 'New Yorkers shamelessly parading for segregation'

"We've got troubles of our own / So why not keep us close to home?
"Please, oh, please, leave us alone / Stop zoning, zoning, zoning."
In 1964, the backlash against integration arrived quickly. About a month after the February boycott, thousands of white parents — largely mothers — marched across the Brooklyn Bridge in slushy snow. They sang and chanted in unison against busing their children to schools outside their racially-segregated neighborhoods.
Many of those parents said they were supportive of integration, but argued that busing was too extreme a solution. "Education — Yes. Integration — Yes. Transportation — No," read one sign.
"Parents simply won't stand to have their children shuttled around from school to school to please some extremists," said Rosemary R. Gunning, a leader of the antibusing Parents and Taxpayers group, in 1964.
"Few would have believed that we could see New Yorkers shamelessly parading for segregation," Rev. Milton A. Galamison, who championed desegregation, said at the time about the march.
Last summer, Mr. de Blasio ruled out using busing to achieve integration. But even small-scale integration efforts in middle class neighborhoods have sparked enormous resistance from mostly white parents, who have objected to sending their children to schools even a few city blocks away from their zoned school.
In 2016, a proposal to send some Upper West Side children — who were zoned for a high-performing, mostly white, wealthy elementary school near their homes — to a lower-performing school, attended mostly by low-income black and Hispanic students, about a ten-minute walk away, was met with vitriol.
A version of the plan — which ultimately impacted a relatively small number of schools — eventually passed after years of negotiations.
But the recent push for integration has been led in part by liberal white parents.
Some of these parents helped force the most comprehensive local desegregation policy yet: the elimination of screened middle schools in Brooklyn's District 15, which includes upper-middle-class neighborhoods like Park Slope. Some parents there have said the election of President Trump prompted them to combat segregation in their children's schools.
Still the District 15 plan, which was approved by Mr. de Blasio last fall, was modest compared to the integration blueprint unveiled in the spring of 1964 by the then-Board of Education.
As many as 40,000 students would have been transferred to different schools through a combination of school rezoning and a pairing up of mostly white and mostly black schools. Students would then have been bussed to integrate the schools.
"The time for action is now," declared then-schools superintendent Calvin E. Gross when he released the plan.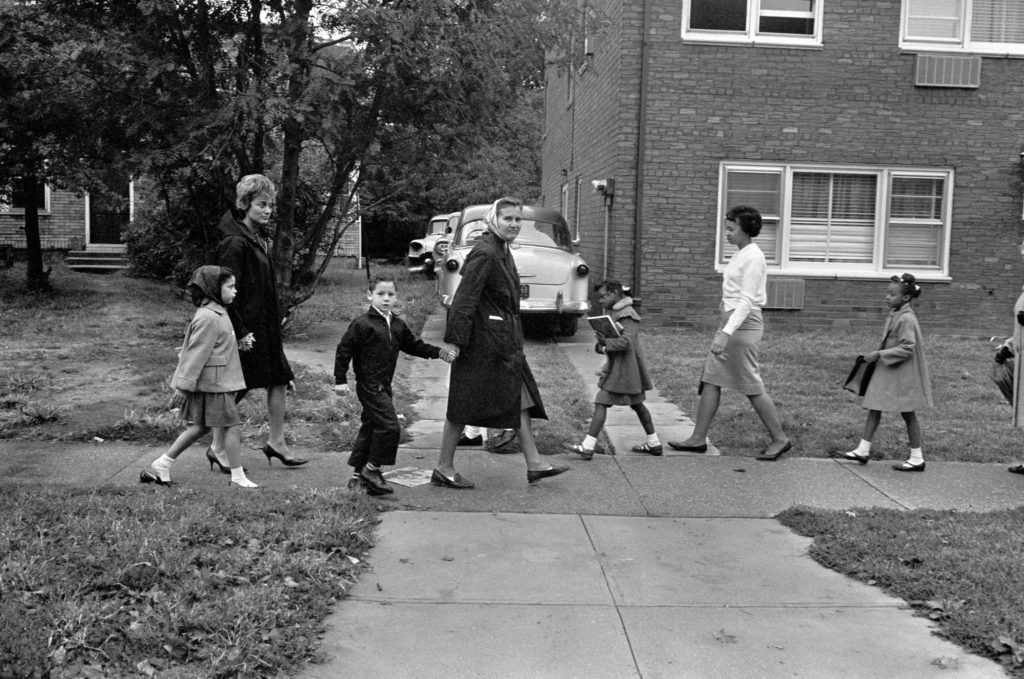 'The dream of racially integrated schools is slipping away'

In 1965, a member of Parents and Taxpayers had a prescient message: "I think we could say that it looks like it's going to be an argumentative year."
The prediction was correct; the Board of Education's desegregation plan mostly fell apart over the next few years, as opposition mounted.
As the 1970s began, the debate that would set the stage for New York's current integration fight was brewing at the State Capitol in Albany.
In the spring of 1971, lawmakers were crafting a bill that would codify the entrance exam as the sole means of admission into the specialized schools.
And they were in a hurry: After critics said the exam was "culturally biased" and discriminatory against black and Hispanic students, the city schools superintendent at the time signaled a willingness to re-evaluate how students were being admitted into the schools.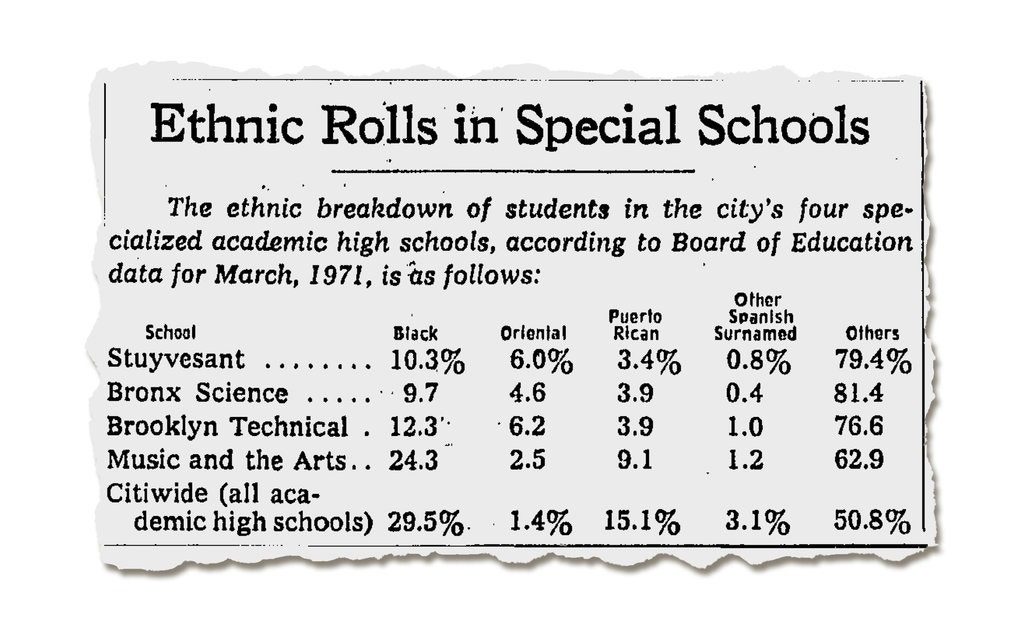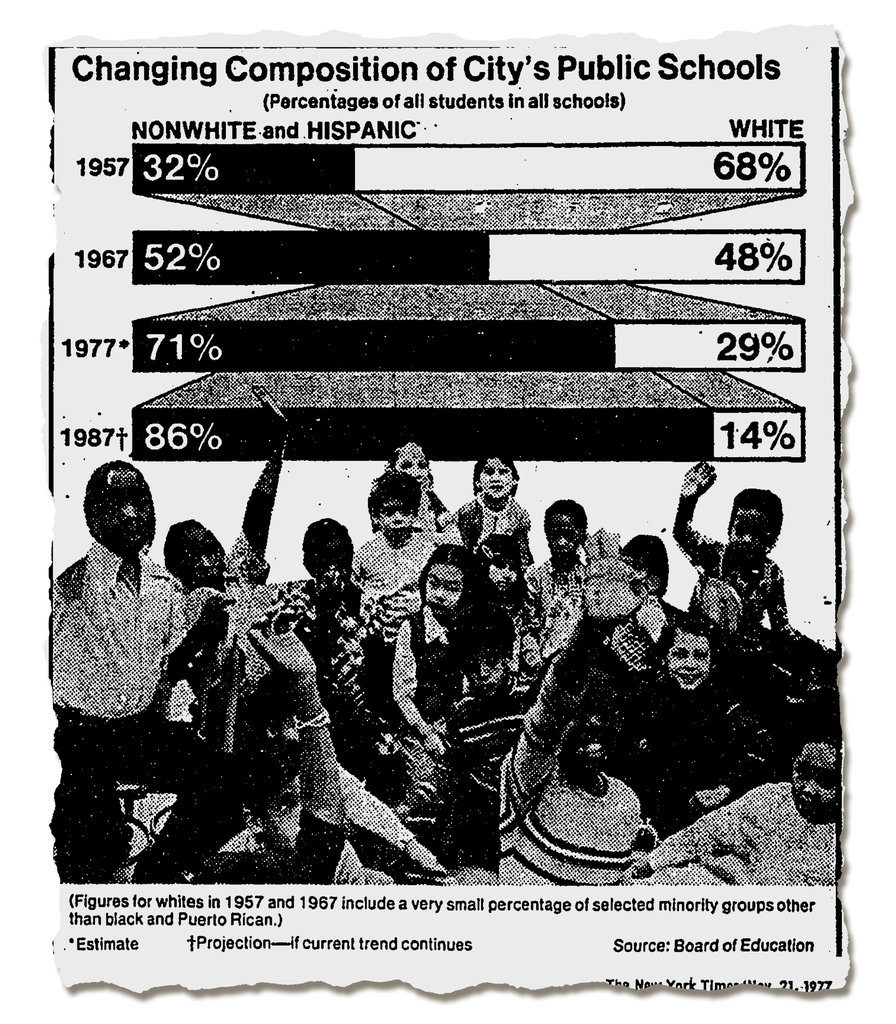 That year, about 10 percent of the students who attended Stuyvesant, the most selective of the schools, were black. (Last year, one percent of Stuyvesant's freshman class was black; this year, the number is even lower.)
But before the Board of Education could study the issue in 1971, parents sprung into action. One group from the Bronx High School of Science released a flyer asserting that the specialized schools, "could be saved only if, once and for all, it is established that there can be no tampering with the standards of merit and achievement that have been the basis for admission."
The brief but spirited fight culminated in May 1971, when members of the New York State Assembly shouted each other down, lobbing accusations of racism and bias, before ultimately approving the bill. For the nearly fifty years since, students have to ace the entrance exam to win a seat at a specialized school.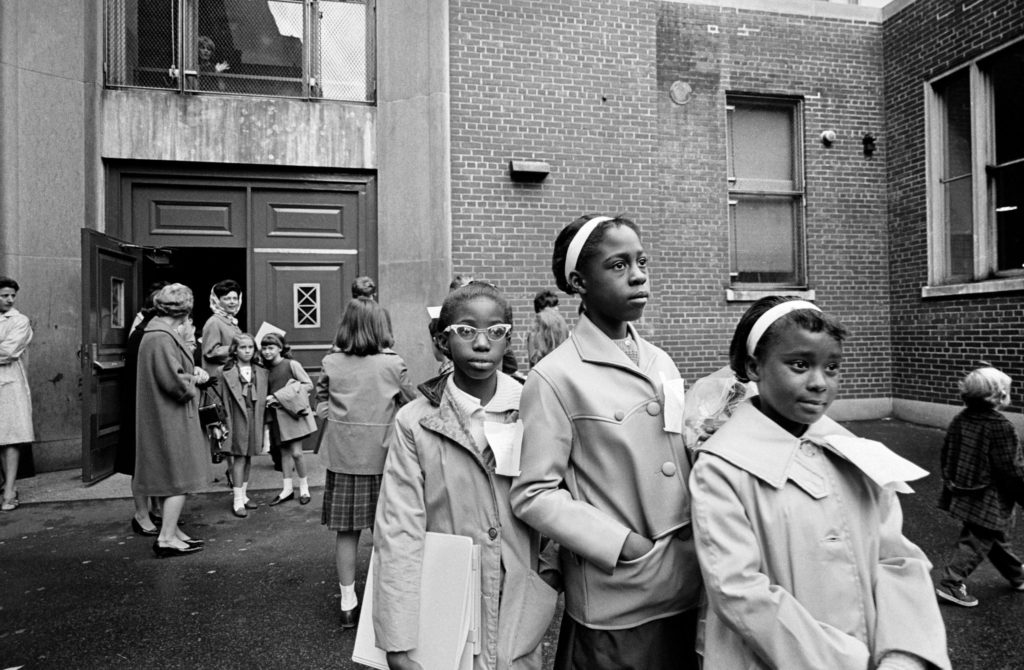 "Where are all the liberals who are always protecting blacks and Puerto Ricans? I don't see them today," said Louis Nine, a Democrat from the Bronx who opposed the bill, at the time.
Mr. Nine's Democratic colleague from the Bronx, Seymour Posner, insisted that the measure would protect "the opportunity for a bright kid, even if he's not rich, to go to an exceptional high school."
In the 1970s, the specialized schools were overwhelmingly white. Today, they are mostly attended by Asian-Americans, many of whom are low-income immigrants.
In 2018, when Mr. de Blasio proposed a plan that would discard the exam and overturn the law, known as the Hecht-Calandra Act, he called the paltry numbers of black and Hispanic students in the specialized high schools "a monumental injustice."
"Can anyone look the parent of a Latino or black child in the eye and tell them their precious daughter or son has an equal chance to get into one of their city's best high schools?" the mayor asked.
Opponents of the mayor's plan have said it could water down the schools' academics and that it discriminates against Asian students, who would lose about half their seats at specialized schools under his plan.
"We firmly oppose the amended bill that completely eliminates the test and substitutes unnamed subjective criteria," said the leaders of the Stuyvesant and Brooklyn Technical High School alumni associations, in the wake of Mr. de Blasio's proposal.
A half-century after Hecht-Calandra passed, Mr. de Blasio has tried to make the case for why state legislators should eliminate it. But that plan has scant political support in Albany or downstate.
But both supporters and critics of the mayor's plan have pushed him to release a blueprint to integrate all of the city's 1,800 schools, not just eight especially prominent ones.
No proposal has materialized.
In 1977, a Times reporter observed that, after a decade of advocacy and discussion, the prospect of school integration in New York was dimming.
"If the dream of racially integrated public schools is slipping away now in much of New York City, what will have become of it five years from now, or ten years? The outlook, at best, is uncertain and troubled."
Eliza Shapiro is a reporter covering New York City education. She joined The Times in 2018. Eliza grew up in New York City and attended public and private schools in Manhattan and Brooklyn. @elizashapiro
última atualização em 14 de junho de 2020